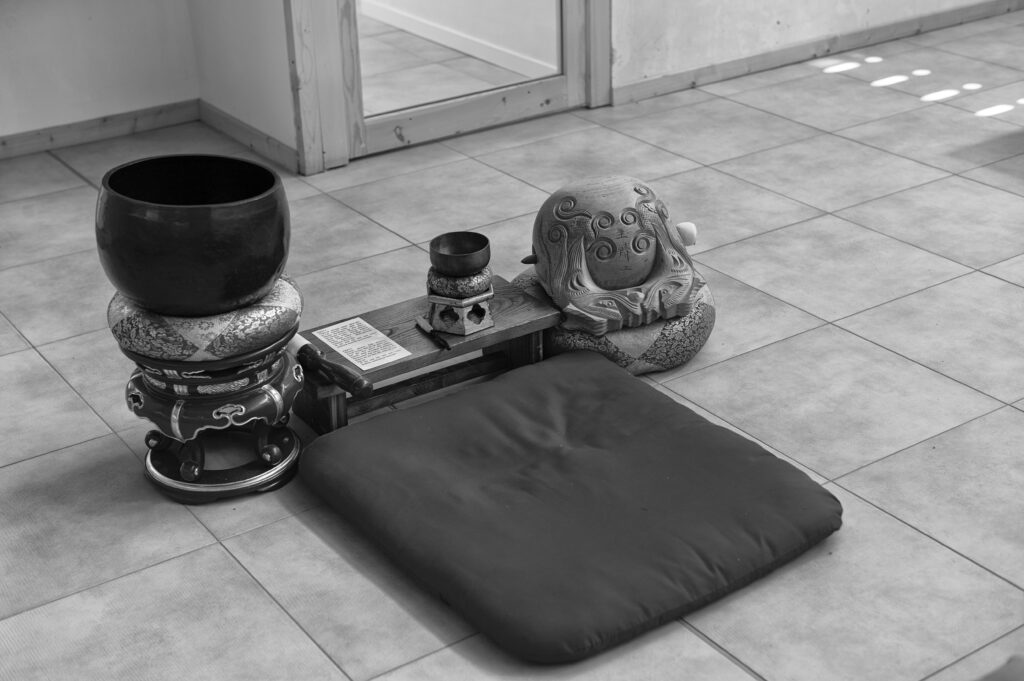 Sesshins give you the opportunity to concentrate on Zen practice for a weekend or a week, participating in the energy of the group. This can be to discover Zen for the first time or to deepen your practice.
Typical day
Sūtras
The day starts with chanting sūtras aloud.
Zazen
Literally "sitting zen". Sitting and breathing. Private interviews are possible.
Kinhin
Walking Zen between two Zen sittings.
Meals
Vegetarian and organic meals, eaten in silence.
Samu
Communal manual work, also called gyōzen, Zen in movement.
Hitsuzendō
Way of Zen through brush. Beyond all technique, being "One" with the brush, your breathing and your movements. Only during ōzesshins (i.e. week-long sesshins).
Yaza
Last sitting of the day, outside.
2023-2024 Calendar
| Autumn 2023 sesshin | Rōhatsu 2023 ōzesshin | Winter 2024 ōzesshin | April 2024 sesshin | June 2024 sesshin | Summer 2024 ōzesshin | Autumn 2024 sesshin | Rōhatsu 2024 ōzesshin |
| --- | --- | --- | --- | --- | --- | --- | --- |
| 21 – 25 Sept. | 25 Nov. – 02 Dec. | 12–18 February | 18–22 April | 12–16 June | 05–11 August | 25 – 29 Sept. | 23 – 30 Nov. |
Arrival in the afternoon of the first day of the sesshin, between 3.30 p.m. and 6 p.m. (before 5 p.m. if this is your first sesshin).
Departure after lunch and clearing up, on the last day at around 1 p.m.
Cost
The cost covers full-board accommodation, vegetarian and organic meals, and use of the Centre's infrastructure. The daily rate is €65.
| Duration | Deposit | Balance | Total |
| --- | --- | --- | --- |
| 4 days (weekend sesshin) | €100 | €160 | €260 |
| 6 days (ōzesshin) | €150 | €240 | €390 |
| 7 days (Rōhatsu) | / | / | €455 |
Cost details of sesshins
Payment
You will be asked to pay the deposit when you sign up for a sesshin and the balance when you arrive. Any sesshin that you start is considered due. Any early departure from a sesshin, planned or otherwise, is not reimbursed.
By simply asking, people under the age of 26 and those on a low income can benefit from a 50% reduction of the cost.
Registration
To register, contact the Centre.
Your registration is validated when we receive your deposit by cheque or bank transfer. If you cancel up to 10 days before the start of the sesshin, the deposit is transformed into credit for a later sesshin, valid for a year. If you cancel at the last minute, your deposit is not reimbursed except in the case of force majeur (family reasons, illness such as COVID, etc.).
Registration for the Rōhatsu ōzesshin is reserved for people who have already taken part in at least one ōzesshin at the Falaise Verte Zen Centre and is subject to the approval of Taishin Sōmyō. Registration is validated when we receive the full payment for Rōhatsu.
Membership of the Falaise Verte Zen Association
For insurance reasons, annual membership of the Falaise Verte Zen Association is mandatory to take part in a sesshin.
| Membership | Amount | Comments |
| --- | --- | --- |
| Ordinary | €30 | For people coming to the Centre for the first time or for people not subject to French income tax. |
| Support | €76 | For people renewing their membership. |
| Benefactor | Any amount above €76 | For people who wish to contribute a larger amount to support the activities of the Centre. |
Summary of the different types of membership of the Falaise Verte Zen Association
Membership includes subscription to the Revue du Centre Zen, an annual printed newsletter (available in French only).
Practical details
Participants will receive an email with all the required practical details about two weeks before the start of the sesshin.
You can bring your own bedclothes:
pillow case, under sheet and sleeping bag, or,
pillow case, under sheet and over sheet (blankets are provided).
Otherwise, you can hire sheets and a pillow case. In this case, you will be asked to contribute €10 towards laundry costs.
When you register, you can request a single room for a supplement of €40 per stay. Whether or not we can meet this request depends on the total number of participants.
See the directions to access the Centre.